.
A New Hope
(Episode IV) version
The next few pictures shows my replica of the ANH version, which can be said to be the classic Star Wars lightsaber. This version is the one that was given by Ben Kenobi to Luke in ANH, supposedly being the saber that Darth Vader/Anakin Skywalker wanted Luke to have.
This saber, just like the ones used in the movie, is built using a Graflex 3-cell flashgun, with bubbles, grip, chrome tape, and D-ring added to it.




- In my ANH version, I've put the control box on the left side. Typical display photos show it on the right (eg., see below), but in the movie it's on the left side, hence why I put it on the left.


(Courtesy of Part of Star Wars)
And here is my "Mini-Luke" (ANH style):
The one in the picture has been sold, but I have another one which is almost identical, except the clamp is a replica clamp, and the D-ring is new and unattached. It is for sale - $80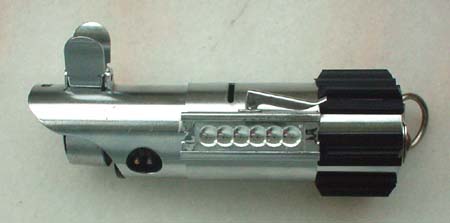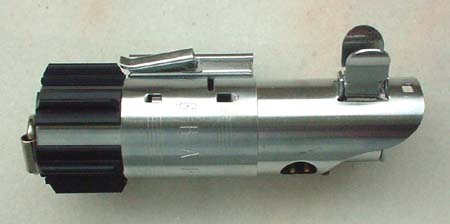 It's made out of a Graflex Slave flash, Graflex clamp, and a Graflex 2-cell bottom.
And a comparison shot with Daddy (who had his D-ring removed for the son in these shotsS):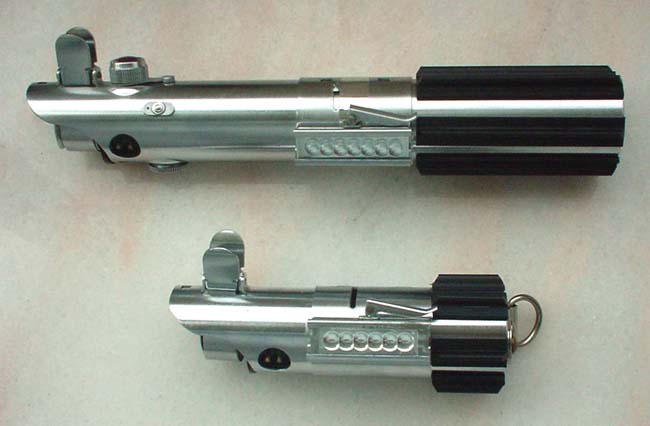 The Empire Strikes Back
(Episode V) version
And this is my ESB version, also built on a real Graflex 3-cell flashgun:





As you can probably see, the ESB version has some minor differences:
Instead of the "glass eye"/focusing lens on the bottom side, they stuck another red button there.
Instead of the bubble strip on the control box, they used a circuit board.
Instead of the chrome tape which covers the GRAFLEX wording, they used wider textured tape (in some photo shoots anyway; sometimes they didn't use any).
They drilled rivets into the lower part of the grips.
The D-ring is different, with the one in the ESB version a "Linholf" D-ring.
The Return of the Jedi
(Episode VI) version
As you probably know, Luke lost his saber (along with his right hand) at the end of ESB, and constructed a new one in ROTJ. The one you see here is by Master Replicas, and is the ultra-ultra rare USA version. It's more accurate than the China version (which is duller the silver rings are too thick).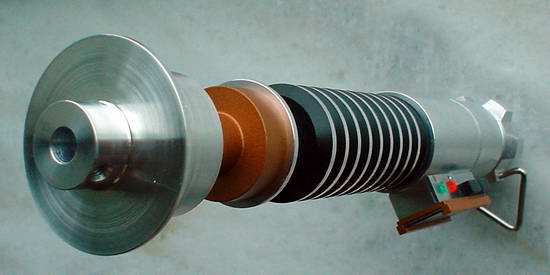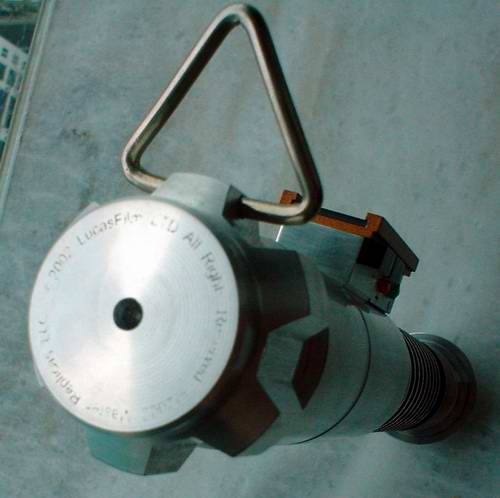 (NOTE: no "Made In China" wording like most of the others!! :D )
This was the first lightsaber I bought, through eBay. I barely knew anything about lightsabers then, and thought this looked like Luke's (it was advertised as such too)! Even though it's quite different from Luke's saber, it makes a pretty nice custom saber. It actually looks like a combination of Luke ANH, ESB, ROTJ, and even a bit like Anakin's new saber in Ep. II. It actually has an EL blade too, but I haven't got it with me right now.